Com mais de 9 anos de existência, os ONE VISION já deram mais de 500 concertos em Portugal continental e Açores. São considerados um dos melhores tributos da Europa, apesar da sua renúncia em "imitar" os QUEEN.
Fazendo a sua estreia a 28 de Janeiro de 2006, e já com mais de 500 concertos realizados, os ONE VISION são um caso sério de sucesso em Portugal. Desde aparições televisivas a participações nas festas de lançamento de novo material dos QUEEN, os ONE VISION, são a primeira banda de Tributo aos QUEEN a existir em Portugal, tendo por isso, o exclusivo apoio do Clube de Fãs Português - The Show Must Go On.
Site:
www.onevisionpt.com
Facebook:
www.facebook.com/onevisionpt
Powered by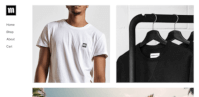 Create your own unique website with customizable templates.